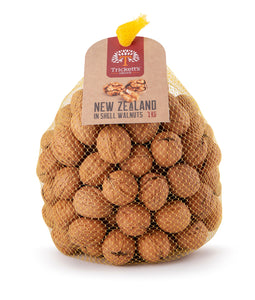 Trickett's Grove walnuts are 100% New Zealand grown. Our orchards are mostly located in the heart of the Canterbury plains. Walnuts are delicious, healthy and versatile. Just 30g of walnut kernel provides 100% of your daily Omega-3 requirement.
These nuts have been harvested from our Canterbury orchards, carefully washed, sorted and then dried to the ideal moisture level for keeping.
Store in a cool dry place. Once cracked, store in an airtight container in the fridge or freezer.
Contains tree nuts.
 By purchasing this product, you agree to our Terms and Conditions and Privacy Policy which are available at the bottom of this page.